First-time Buyers Could Miss Out Amid Investor Mania
Key Items to Consider:
The share of U.S. homes purchased by investors recently hit its highest level in at least 21 years, according to Attom Data Solutions.
Demand from investors has driven the recovery, but the resulting lack of supply and price increases has hindered first-time homebuyers.
The "Smart People" think that investors will likely fuel future housing market growth.
Partnering with an experienced and trustworthy advisor is more important now than ever.
Investors/Landlords have been critical in helping the real estate market recover, but this has increased competition for first time buyers.
Everyone active in the market has been aware of this side effect, but a new report brings the numbers to light.
The report also suggests this trend/competition is likely to continue.
'The Good, The Bad, and The Ugly'
"A housing recovery that is highly dependent on real estate investors is a bit of a double-edged sword," said Daren Blomquist, senior vice president of Attom Data Solutions, which released the report in partnership with Clear Capital.
"Rapidly rising home values have been good for homeowner equity, but also have caused an affordability crunch for the first-time homebuyers the housing market typically relies on for sustained, long-term growth."
Blomquist added in an interview that "it's safe to say a higher number of first-time homebuyers would be participating" if not for steep competition from investors.
"They're really going after the same inventory," he said.
Single Family Homes Used as Rentals Continues to Increase
The number of investment homes purchased — a benchmark for investors' marketshare — hit a 21-year high going back as far as Attom Data Solutions has tracked the data, reaching 37 percent in 2017. That's up from 32 percent in 2015 and 28 percent in 2009.
The percentage of single family homes that are being rented has steadily increased, according to a recent Vision 2017 from Gary Keller.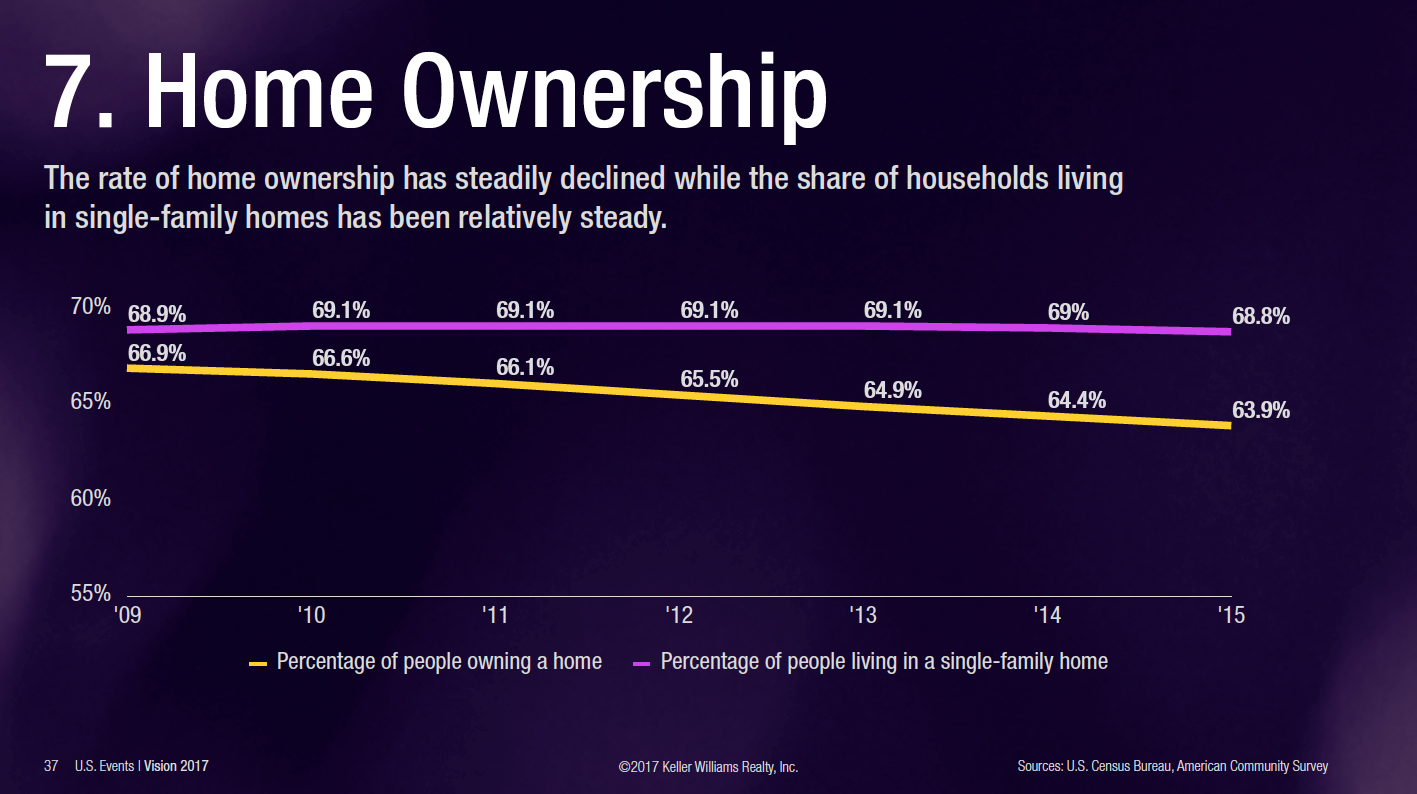 Source: Keller Williams Realty
Less Buyers Obtain FHA loans
First-time home sales, however, remain near a 25 year low in spite of FHA reducing MIP in late 2015.
The trend is unlikely to change course. Increasing home prices and mortgage rates will reduce affordability, "locking an increasing number of would-be first time homebuyers out of the housing market," the report said.
Why is the demand for investment property increasing?
According to Kellers 2017 Vision Speech, 82% of people believe real estate is a good financial investment and 57% believe real estate is a better investment than stocks. This has increased demand for investment property, both for rental and "flip" properties.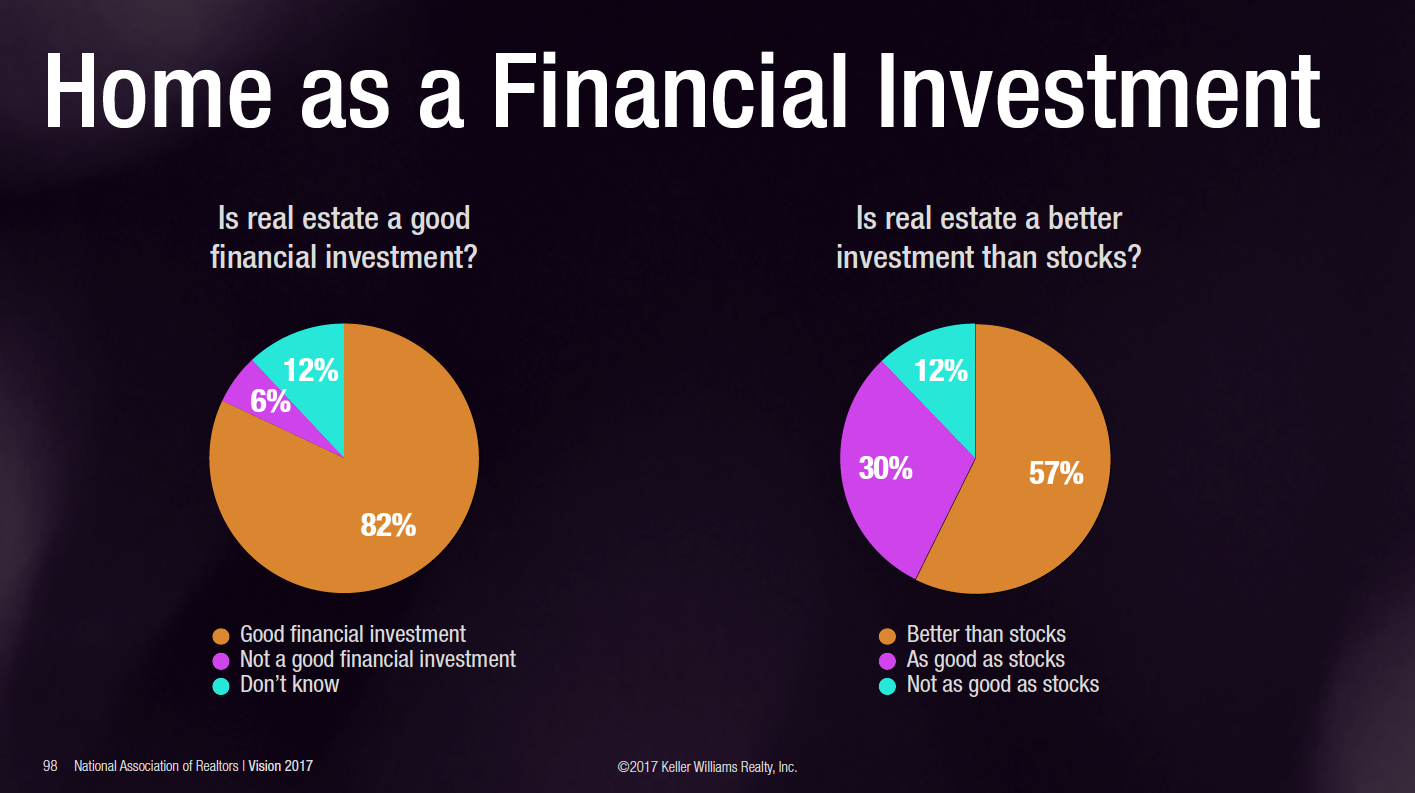 Source: Keller Williams
"The strong demand from buy-and-hold rental investors in these markets has also helped to fuel the markets for flippers who rehab older, outdated housing inventory into turn-key rentals for the passive buy-and-hold investors to purchase for their portfolios," the report said.
Popular TV shows have also glamorized "flipping" houses as well.


Partner with a Trusted Advisor
An honest and trusted advisor is a First Time Home Buyer's best friend. Online reviews are a great source to vet who has the experience and expertise to navigate a first time home buyer through the process and go toe to toe with the competition (non-owner occupants)!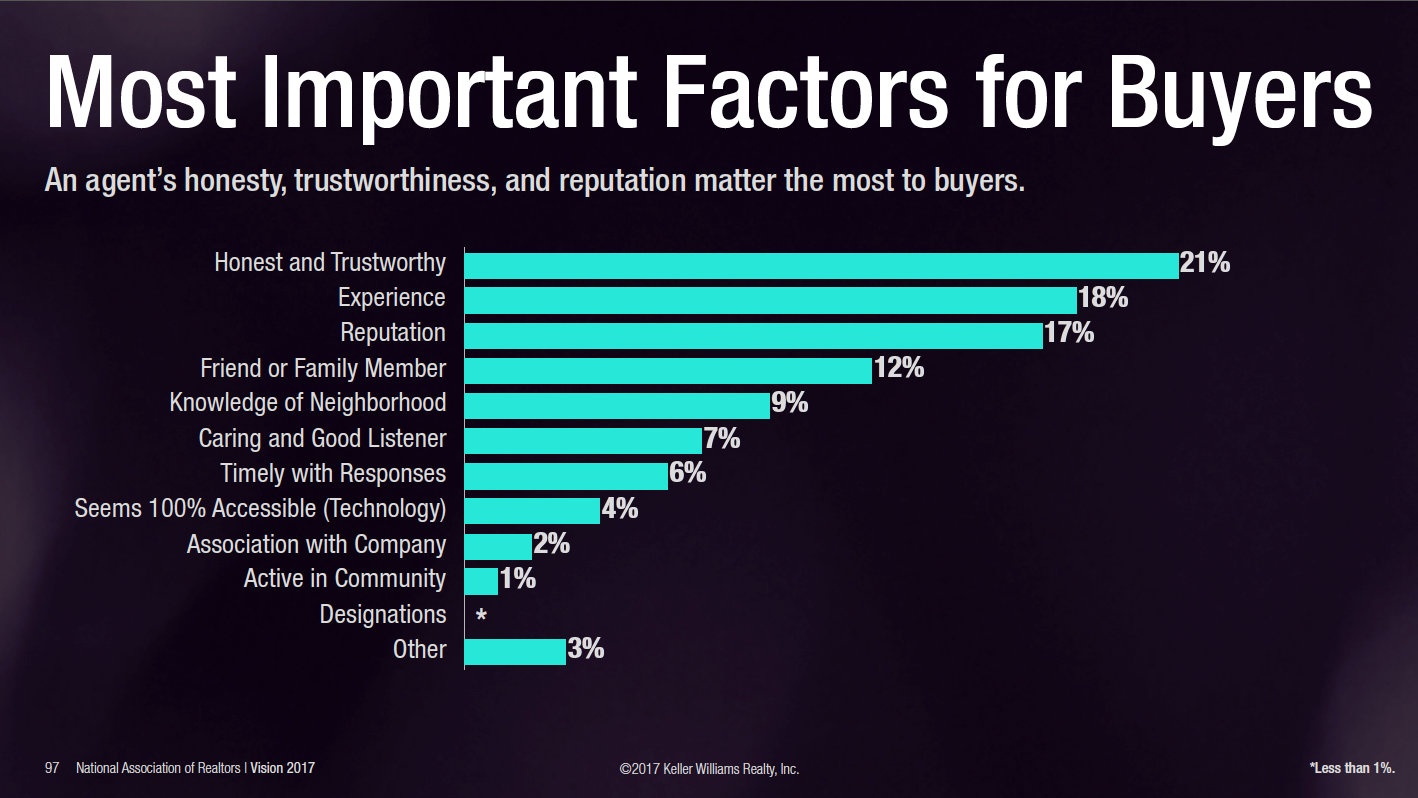 Source: Keller Williams